What we're working on
Since acquiring Northleach Court residential home in The Cotswolds in February 2019, Geoff and Zo Butcher have been working hard alongside daughter, Hannah, and son, Michael, to refurbish, modernise and redecorate the residential home to ensure that it exceeds the expectations of both our residents and their families.
As a family-run business, it is incredibly important to us that we keep any disruption to the very minimum whilst we are working on renovating the home, and that Northleach Court remains a safe, familiar and comfortable environment for our residents whilst renovation work is being carried out. This page has been created to document our journey refurbishing Northleach Court residential home in The Cotswolds, please check back regularly to keep up to date with our progress.
August 2021 – plans for extensive refurbishment – ready in 2022
We're currently working on our biggest renovation project yet, and we can't wait for it to be ready in 2022! It's an extensive £2m refurbishment programme across both floors of the home.
The refurbishment will include:
Even more communal space

Cafeteria and dining room for residents and family to enjoy
Additional space for relaxation, dining and activities

Every bedroom will be fully refurbished with an en-suite wetroom
Hairdressing and beauty treatment rooms
New assisted bathrooms
Nurses offices and treatment rooms
New nurse call system
New larger lift
New fire alarm
Wi-Fi throughout the home
Enhanced digital monitoring systems to further improve quality of care
Take a look at some of our artist's impressions:
Extension A – New entrance/ reception/ cafeteria and communal area:
Extension B – New ground and first floor communal spaces:
June 2019 – Northleach Courtyard
Here at Northleach Court Private Care Home, we are fortunate enough to have a beautiful enclosed courtyard garden. Over the years our staff and residents have spent a lot of time in the courtyard enjoying the sunshine, going for a walk, sitting in the garden and getting some fresh air in a safe and private environment.
Unfortunately, the courtyard had not been maintained by the previous owner and had become overgrown. As a result, the area was looking a little worse for wear. With the summer months fast approaching we decided to get our courtyard looking colourful and inviting once again.
To begin we tackled the overgrown weeds and began preparing the flower beds for some fresh flowers. With some help, we have managed to get the water feature working again and tidied up the foliage and bushes. The safety of our residents is a top priority of ours, therefore we have spent some time to clear the pathways of any fallen branches, ensuring the pavement is safe and accessible for our residents.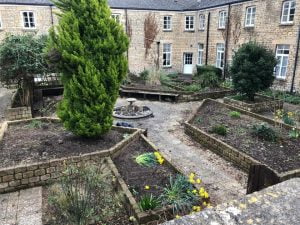 Once the courtyard was ready, we worked closely with some of our residents to plant some flowers and add some colour to the empty beds. A number of our residents used to enjoy gardening on a regular basis and were thrilled to have the opportunity of planting some flowers ready for the summer months.
The garden is now looking bright and beautiful and our residents have been enjoying spending time outdoors relaxing in the sun. We encourage our residents and their visitors to visit our courtyard and spend some time admiring the lovely flowers.
Watching the transformation of the courtyard has been an enjoyable experience for all involved and it has been lovely to see our residents enjoying the outdoors again.
April-May 2019 Interior refurbishments
As part of our renovation process here at Northleach Court, we have started refurbishing the interior of the home by decorating the communal living room.
We have brightened up the room with some fresh paint, re-carpeted and put in some lovely new lighting fixtures. The room is looking much brighter after making some small changes and appears to be much more modern and inviting.
As one of the busiest rooms in the house, we believe it is important that the decor is kept updated, the seating is in great condition and the room is a safe, comfortable and calm environment for our residents. We have also installed some beautiful new armchairs for our residents to relax in.
The team would like to thank Sally and Theresa for all of their hard work over the last couple of days and are looking forward to seeing the other rooms in the house come together.
April-May 2019 – Bedroom Refurbishments
At Northleach Court residential home in The Cotswolds, it is important to us that our residents feel comfortable and at home in their bedrooms.
We provide our residents with a comfortable bed, wardrobe, chest of drawers, telephone and television point. We encourage our residents to bring personal belongings and small pieces of furniture to decorate their bedrooms and make the room feel more personal if they wish.
We have started to refurbish our spare bedrooms so that they are looking fresh and inviting for our new residents. We have completely transformed the look and feel of some of our rooms by adding some paint, updating the furnishings and swapping out the decor.
Our team are working hard to ensure that we do not disrupt any of our residents and will be asking each resident and their family for permission before updating any occupied bedrooms. We are thrilled with the results and are looking forward to refurbishing the rest of the rooms in the home.